Dinner time is often a battle zone in our household because I spend a lot of time in the kitchen preparing a healthy meal for my family, and when I present it to my 1,5 and 3 year old, they push it away and tell me it is yuck before even tasting it! This obviously makes me upset and we have a fight over trying to get good food in their tummies before bed. Three things that have really helped me win this battle are:
a. creating reverence around the dinner table. Establishing a calm 'together' time away from all media or noise. Explaining to them whats on their plate, where it came from and how it was made. This works even better if they helped make the meal or grow the veggies.
b.establishing certain agreements around the dinner table such as 'it is important that you try something before you say you don't like it.'
c. Adding healthy goodness into your meals and your children won't even know the difference! Below are five exciting ideas on how to do this:


1.Rice with a twist
When I serve my children rice with stew or curry or veggies, they always seem to eat the plain rice and leave everything else on their plate. So I have decided add some healthy things to the rice. Try to:
add a tablespoon of ground flax seeds.
half a cup of frozen or fresh peas.
A glug of olive oil or a large spoon of coconut oil.
Use millet, barley, buckwheat or brown rice instead of white rice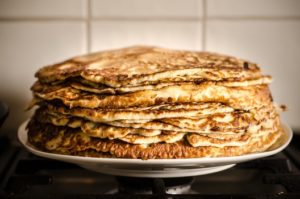 2. Protein Pancakes
My kids love pancakes but wheat flour carbo-loading is not always the healthiest option. To your next batch of pancakes try adding:
a spoon of ground flax.
half a cup of ground sunflower seeds.
half a cup of ground nuts ( I use almonds).
top the pancakes with plain yogurt, blueberries and honey.

3. Blend, blend those smoothies
We often have smoothies for breakfast, lunch and even dinner. It is the perfect way to get good nutritious food into a toddler all at once and it still tastes delicious. Try adding these to your smoothie:
avos and bananas. These always form the base of my smoothie. The bananas add sweetness and the avo creaminess ( not to mention high nutrition!).
add ground flax seeds or flax oil for omegas
add tahini for protein
add blue berries for anti-oxidants
add strawberries or other fruit for flavour
add nuts for protein
add plain yogurt (learn how to make your own here)
add coconut milk ( I learnt how to make my own here)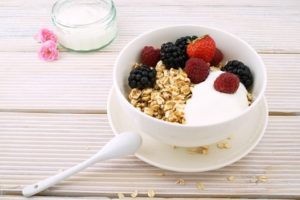 4. Add to those Oats
We eat whole oats for breakfast pretty often, but I usually find that by 10am I am hungry again. That was until I started adding a range of things into my family's oat pot. Try these:
add a tablespoon of cinnamon
add a spoon of tahini
add a spoon of peanut butter or other nut butter
add ground flax seeds or flax oil
add coconut oil
add 'banana milk', which is simply bananas and a little water blended to form a liquid
add coconut milk
add raw honey
add berries
add half millet or buckwheat grains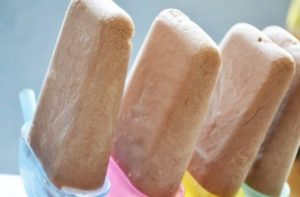 5. Healthy ice cream
My 1 year old asks to look in the freezer everyday to see if there are any ice creams for her to devour. As she is a fussy eater I don't mind giving her an ice cream to replace a meal as they are filled with delicious nutrition. Investing in a plastic lollipop mould is a must for kids and you even get moulds with pictures of animals or shapes. Have a look at my best recipe ice cream recipe here, but a combination of any fruit and healthy oils make delicious ice cream. Be adventurous! Below are more ideas to make healthy ice cream at home.
Bananas often form the base of my ice cream
Plain organic yogurt or coconut milk is a good addition to creamy ice creams
Any fruit such as blue berries, orange, strawberries, granadilla
add a good oil such as flax oil or coconut oil
add a nut butter or ground nuts
Blend all the ingredients and place in lollipop moulds in the fridge.
One thing I have learnt is that children's tastes change all the time so if they refused brocolli yesterday, serve it again in a few days and they might change their minds. Be creative, and never give up serving new and healthy meals.
Related links:
https://www.positivehealthwellness.com/diet-nutrition/teach-children-eat-healthier/