I have always been quite a hoarder. As a child I used to have huge bag of sweets and chocolates at the bottom of my cupboard behind my sock box. When my mom or friends gave me sweets, I would always eat one and keep the other. (and then have great bribing material for my sisters!) Even on long car journeys to our annual camping holiday to the Eastern Cape, everybody would guzzle down a packet of chips that was shared equally, but I would secretly stash every second chip into a neat toilet paper pouch carefully laid down the side of the car flap. And then hours later proudly eat those chips when I needed a snack!
In my adulthood I have attempted to improve my hoarding habits because seriously…some things really do need to be thrown away! But recently discovering the joy of upcycling has made me glad that I am a hoarder!
Have a look at this perfect upcycling holiday project that my husband and I made for our children this holiday.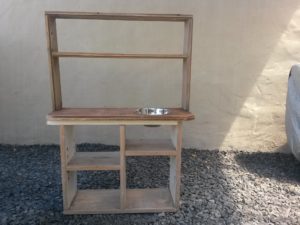 Our play kitchen started out as this table. We inherited this strange long table when we bought our house. Over the past 5 years it has been used to display plants, store wood, and store outside toys. But when my daughter turned three years old, we saw new potential in it.


It was chopped in half and the wood from the remaining half was used to create shelving. The upper frame was made using old SA pine floor boards which we had left over after fitting second hand wooden flooring into our home.


It was then sanded and a silver mixing bowl inserted into the round hole made with a jigsaw.



A good lick of paint can make anything look amazing!






A backing board was added, along with an oven and cupboard door using the same backing board. The tap is an old handle. The only things we needed to buy were two hinges and a silver bowl costing us a total of R55! I went to a second hand shop to get old tins and metal bowls to add as play food and crockery. And voila!