My husband, Daniel and I got married in December 2010 at Goedgedacht farm near Malmesbury in the Western Cape. The venue was specially chosen because of its climate change awareness projects, but also because it allowed us lots of freedom to create the real deal green wedding we always wanted. We did have a look at other wedding venues around and Paarl and Stellenbosch, but they were very expensive and you had to conform with the humdrum types of 'wedding packages' that they offered.
The green theme started off with my wedding dress. I wanted it green, the colour green, and I wanted to dye it green naturally. I bought some loose weave cotton and boiled it in a bath of vinegar mixed with different green leaves. I tried spinach, grass, Artemisia, even tumeric and rooibos, and they all gave me the colour I was not looking for! Either too light, or very yellow, or too olive. I have since discovered on our honeymoon to India,
that the metal iron that has been oxidised would have given me the correct green. So I gave up on dying my dress at the time, and was able to find some raw un-dyed silk, which I used in conjunction with some green West African material. I designed the dress with a friend in the theatre industry, and she made it for me. I hand cut all the buttons from a broken carved ostrich egg and got my mother-in-law to sew them on.

We designed our own wedding ceremony and one important aspect was that we wanted everybody to feel included in the procedures. So we decided to seat everybody on the floor on pillows in a semi-circle. Daniel and I follow the Bahai faith so we asked a Bahai friend Charlotte to help lead the procedure, and we also asked many friends to contribute songs and prayers from their faith and share them with us in the ceremony.
We wrote our own vows and asked the guests to bless our rings as they were passed around on a small branch. We wanted to incorporate an element of wind, water, fire or air into our ceremony so we decided to enter the ceremony space on a boat while the guests sang and welcomed us from the shore. We also decided to engage in the Hindu tradition of circling around a sacred fire seven times while blessings are being read.
A great sense of participation and community was formed because many guests were asked to bring things or help contribute by helping in the kitchen or with decorations.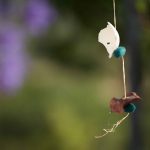 The drinks served just after the ceremony were a mix of orange, carrot, apple and beetroot juice, all hand squeezed by some of the guests.The decorations for the long communal wedding table was recycled glass jars filled with pieces of nature ranging from shells, to pebbles, to chillis.These were collected from beaches and mountains by many friends weeks before the wedding. Mobiles hung from the grapevines above the table also made from seed pods, porcupine quills and beads.

As Daniel and I are vegetarian, there was no doubt that we would be having a vegetarian wedding, we also opted for alcohol free. We knew we wanted to source organic, local vegetables from the Malmesbury area so we decided to grow our own on the farm 3-4 months before the wedding. Luckily Goedgedacht has their own organic garden where they supply food to the crèche on the farm. We gave them a list of the things we'd like them to grow, and also improvised with what they had ready to harvest on the morning of the wedding. This was one of the fun unusual activities our guests got to do at our wedding, pick the vegetables they will eat for the wedding feast! We asked Rupa, a Hare Krishna friend to prepare the food and she did an amazing job with the veggies we picked.

Another big energy and water waster at weddings is the fancy crockery and cutlery used, and having to wash all of this. So we decided to use cabbage leaves as plates and serve food that you can eat with your hands or spoon up with a roti.
Dessert was fruit pieces, chickpea fudge and a tower of date and carob balls – all hand pickable. If the guests did not eat their plates, it went into the farm's biodigester, whose gas was used to cook the entire wedding feast, in combination with electricity-free hotboxes. The food was also served in an array of colourful hotboxes.
Wedding rings and diamonds are a contentious subject when it comes to ethics and sustainability. Mining gold and precious stones is not a sustainable practice and often surrounded by exploitation and child labour. Daniel and I decided to ask our parents for our grandparents wedding rings and melted four of them down to create our two rings. This would be recycling and reusing but also carrying the beloved energy of our ancestors and the strong bond of their marriage with us throughout our marriage. I designed my ring with Rolf, a jewellery designer friend and wanted it to look very natural, like leaves, grapes or peas in a pod. I used two types of stones garnet, and tourmaline. The tourmaline stone, I bought on a trip to Namibia on the side of the road. I know it has powerful healing properties so I asked Rolf to design the ring so that the tourmaline could touch my skin permanently. The garnet was easy to source through the jewellery trade but not very easy to find the country of origin or way it was mined. I settled for knowing that this specific garnet came from Southern Africa.

We had one last major concern that we knew would increase the carbon footprint of our wedding drastically. Transport of guests to the wedding, especially the ones flying from abroad. None of them were willing to go by boat! So we focussed on the local guests and organised car pooling and cycling groups. The groom, his best man and a bunch of other guests cycled the 89km from Cape Town to Goedgedacht farm the day before the wedding. Once all the guests were at the farm, they did not have to travel anywhere else, and enjoyed the weekend of hikes, swims in the dam and wedding festivities.
Our personalised wedding turned out exactly how we wanted it to. Everybody loved all the unusual touches and loved being out of the city in such a peaceful space. We noted that we would love to have a wedding every year!