South Africa is experiencing its lowest rainfall since 1904. Five out of nine provinces have been labelled disaster zones due to drought, our dam levels are getting lower and at this rate, will reach below 20% by April when the rains hopefully start. This means that we will need an exceptionally wet winter to replenish our dams and ensure water security for our farmers and for those that need it most. These are worrying times, but also a wonderful opportunity for us as individuals and communities to understand and value this precious resource, and at the same time, rally together to save as much water as we can in our homes.
I want to share with you a few simple water saving tips that my family and I are using in our home. These are simple inexpensive ways to save water without any fancy grey water systems or diversion kits.


   1.Reuse bath water
An average bath uses 80 litres of water, this is precious water that could green your whole sun-beaten lawn! You could bucket the water out the bath or use various ways to re-divert the water at the drain. We stuck one end of a hosepipe wrapped up in an old cloth into the outlet pipe, and let the water flow onto our lawn.
2. Reuse washing machine water
The average new washing machine uses about 50 litres of water. Allow the water to flow directly from the washing machine outlet pipe into a suitable container or re-divert the water at the outside drain to your grass or plants. We have tried both versions, first using a large bucket and emptying it three times throughout the washing machine cycle, and second, allowing the washing machine water to flow into the bath and using the above hosepipe re-diversion.

3. Place a brick or bottle in your toilet cistern
An old toilet can use up to 13 litres of water per flush. By adding a brick or filled water bottle to your cistern you can displace 500ml-2l of water each time you flush. No re-diversion, just saving!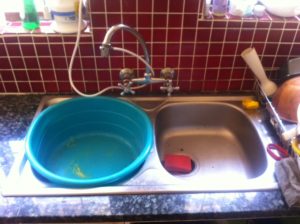 4. Keep a plastic bowl in your sink
Every time you wash some fruit, rinse your hands, or clean a cup, collect that precious water and use it in the garden.




5. Shower with a bucket
If you are not able to re-divert your shower water at the drain, then shower with a bucket at your feet and empty it onto the garden after every shower.


6. Shower/bath every second day.
Come on, you are not that dirty!

7. Share a shower.

Jump in the bath with your kids or partner and save a bath load of water!




                                                            8. Rain water tank

This is the one tip that is an expense to your household, but for us it was the best investment we bought for our home. We never use municipal water to water our garden, and we don't feel guilty when our children want to let the tap run and play with some water. And a light rain can easily fill the rain water tank in the middle of summer in Cape Town. Ideally, all the water we use in our homes (besides drinking water) should come from rainwater.


Last month we finally had R0,00 water bill, which means we are still using a whopping 6000 litres of water a month but our government kindly gives this to us for free. Water is only going to become more valuable and expensive so lets continue to make every effort to conserve what we have got.